Radioshow
Art For The Ears is a hard music radioshow in The Netherlands. Below you can find the latest playlist and also some information in Dutch for the people living in Holland.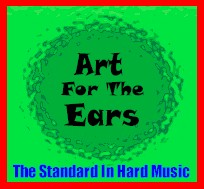 URGENT MESSAGE: Radio 90FM, the radiostation in The Netherlands airing the Art For The Ears Radioshow, altered the frequency. Instead of FM 90MHz, the frequency is FM 91.7 per January 15th!! People who are listening to the show via cable don't need to worry as these frequencies stay the same. Only the frequency through which Radio 90FM airs has changed.
Week 42
Hawk Nelson - California
Crushead - What's Up?
Project 86 - The Spy Hunter
CD of the Month: The Album Of Labour by Veni Domine. Played song: The Healing, The Mystery
Paramęcium - I
Sacred Life - Stupid Tiny Tickling Card In My Pants
Comeback Kid - All In A Year
The Awakening - The Needle & The Gun
Special: interview with Kim, from Fear Dark: . Played songs: Sacrificium - Killing With Style; Brain:FAQ - Schweige
Threshold - Mission Profile

Dutch Information
Wanneer: Elke vrijdag van 20:00 tot 21:00 uur; herhaling: elke dinsdag van 23:00-24:00
Welke etherfrequentie: Fm 91.7 MHz
Wat voor een show: Metal, hardrock, stevige alternatieve rock, hardcore en punkrock. Dus artiesten/bands als Mortification, POD, No Innocent Victim, Galactic Cowboys, Soapbox, Tourniquet, Narnia, Anaemia, Saviour Machine, Veni Domine, Royal, Selfmindead, Extol, Antestor, Zao, Blindside, MxPx, The Huntingtons, Ninety Pound Wuss, Craig's Brother, Stretch Armstrong, Virgin Black, Deuteronomium, Sculpture, Ashen Mortality, Stavesacre, Jacks Of All Trades, enzovoorts!
Waar te ontvangen: In Midden-Nederland. Dus Oostelijke deel van de provincie Utrecht en delen van de provincie Gelderland. Dus in plaatsen als Veenendaal, Tiel, Zeist, Woudenberg, Scherpenzeel, Doorn, Wijk bij Duurstede, Driebergen, enzovoorts. Als je een klein beetje in die buurt woont, moet je het zeker eens proberen. Je antenne beter richten wil nog wel eens flink helpen! Probeer desnoods een andere radio.
Waarom: Omdat ART FOR THE EARS een uniek programma is. In heel Nederland is er geen programma te horen als dit, gepresenteerd door een veteraan op Hard Music gebied. En daarnaast allerlei nieuwtjes en concertinformatie en interviews met nationaal en internationaal bekende bands. Een heftige rockprogramma voor mensen met eelt op de gehoorvliezen!!!