Some of you might remember the band Seventh Angel from the UK that released two excellent albums. Years ago the band split up but the vocalist and guitarist of that band, Ian Arkley, started a new band. Besides this new band, Ashen Mortality, I was told he joined the forces of the Australian band Paramaecium. Reason enough for an interview with this veteran of British hard music.

I remember seeing your band live in 1994 in Utrecht, The Netherlands. Around that time you were doing several concerts in Holland and Germany. And before that you did several gigs on the continent with the band Seventh Angel. What happened after that, since 1993? It seemed like nothing happened anymore. No concerts here whatsoever.

We played a few gigs in Germany and Holland in 1994 and although we have played many gigs in Britain since that tour, we haven't been to Europe again. We would definitely like to play there again and are planning on doing a tour soon, but nothing definite is worked out yet.

With Ashen Mortality you released two albums after two demos. Your Caress is the latest album. How do you feel about that album?

I am very pleased with the outcome of Your Caress. The sound and feel of the album is exactly the way I wanted it to turn out. It is by far the best thing we have done so far and has been received very well.

The album was recorded and mixed in three days during April 1998. Do you feel like that's enough to put your heart and soul into the recording?

I don't feel that the time spent recording was in any way a handicap to us. It was all we could afford at the time, rather than spend a week or two in a cheap studio. We opted to spend our budget on a top studio with a brilliant engineer. In doing this we put a lot of energy and urgency into the recording and as it turned out, we had easily enough time to complete the album. We made sure that we were all well rehearsed before we entered the studio so no time was wasted.

Who wrote the lyrics on the new album?

I wrote all the songs on the CD.

The lyrics are mostly about dark emotions, negative things in life, pain. Like in My Reflection which seems to deal about child abuse or something like that. During the Seventh Angel days there were similar lyrics like: "Falling deeper into depression, I needed death and I thought it through. Endless pressure, constant failure." That type of lyrics. Are that things you have to deal with personally or with people you meet or know?

Most of my lyrics are from personal experience. I feel it helps you to deal with things through songwriting, getting all your feelings out into the open. I often feel more inspired to write in more difficult times in my life, in more intense times. I haven't experienced all the things I sing about personally, but I only sing about things that I feel I understand to some degree. On Your Caress many of the songs were inspired by Melanie in one way or another.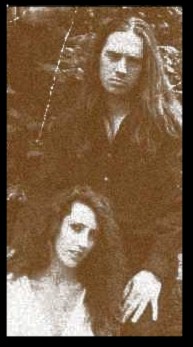 Writing lyrics like that, is that like an outlet, to deal with it personally, or to denounce it?
As I mentioned earlier it is something I find necessary. Even with songs that are never used in Ashen Mortality it is still helpful just to write things down and focus my thoughts and feelings. I write lyrics all the time as a form of self help.
You're nowadays part of the Australian band Paramaecium too. How is that?
I am not a member of Paramaecium but did play guitars on their last CD. I also helped Andrew write most of the songs. However, I had very little to do with the CD, both musically and visually after recording my guitar parts and the basic songwriting. I had no idea what it would sound like or look like when it came out.
Your Caress was recorded in April 1998. Do you have plans for more to come and if so, tell more of that.
We plan to record next year, 2000, but exactly when, we are not yet sure. Probably in the Autumn. We are working on new songs which I began writing about a year ago. The new songs are sounding really good so far. I have spent a lot of time making sure the lyrics are just how I wanted them and the music is sounding powerful and memorable.
The Ashen Mortality albums are released through Forsaken Records which is, as I understand it, your own independent label. If I'm right, Seventh Angel had distribution through Music For Nations. How is that now?
Forsaken Records is Melanie's label. We have just signed a distribution deal with Plastic Head Records for worldwide distribution.
And how is that with Paramaecium? I read a review in the Belgian secular magazine Mindview where the reviewer gave the independently released A Time To Mourn platinum, their highest qualification. So, is there any interest? Tell me.
I haven't heard about reviews, etceteras, for the CD, as Andrew hasn't kept me informed. Comments I have heard from friends and contact have been very varied.
Last question. In the early nineties there was Seventh Angel and Detritus coming from England. I know that Mark Broomhead who used to play in both bands started the Amaranth project with former Seventh Angel bass-player Simon Bibby. Both names I found back in the credits on Your Caress. What are they doing and what became of the Amaranth project?
Amaranth are on hold at the moment after recording a brilliant demo. Simon and Mark are now involved in a band called Fire Fly which musically is very different to anything they have done before.